The Netherlands
Lets just say that The Netherlands is a very special place!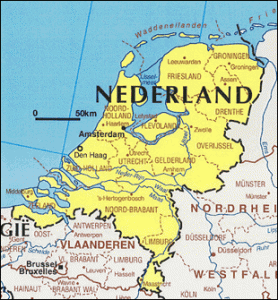 The Netherlands is a country with many advantages, especially for the tourist. And with only a few disadvantages... The main disadvantage is that the Netherlands has: too much of everything. It is hard to believe how many possíbilities there are for things to see and do in this small land. And there are so many different ways of seeing the sights. It doesn't even matter in which of the eleven provinces one stays.
It is a feeling, caused by that small scale, the greatness of ideas and daring, the vulnerability and the impressiveness of the many ways in which the country has outgrown itself.
Horticulture is mainly concentrated to the south of The Hague, in the Westland. Independent of the weather, production there continues throughout the year in heated greenhouses. A link with tourism can be found in one part of the horticultura industry: the famous bulb production, which is mainly done in the hinterland of the dune area south of Haarlem and including Lisse and Hillegom.
Here an agricultural branch helps to form a display for all of the Netherlands. In the spring many thousands come specially to see the wonder of the colorful blooming bulb fields and I was one of them.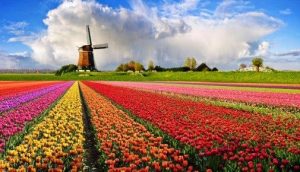 Every visitor will notice how many cut flowers (and potted plants) are bought in the Netherlands in the many shops and Street comer stands, and on the markets and even at special flower markets (for example at the Singel in Amsterdam).
Rich or poor in the Netherlands have one thing in common: there must be a bunch of fresh flowers in the living room. In comparison with other lands cut flowers are very affordable in the Netherlands. This has to do with the large production. Every visitor can see for himself just how large that production is on any working day early in the morning, at the famous flower auction in Aaslmeer. Flower exporters told me that more than three-quarters of the floral production goes abroad, to the considerable benefit of the Dutch economy.
By Fernando Lopes Rosa - English III